Photo for id, passport, drivers licence m.m.
Get your photo taken in one of our stores, or send in your own picture
We take photos for ID cards, visas, driving licenses, taxi cards, färdtjänst, foreign passports, CV photos, photos for linkedin and much more. In our stores, you have paper copies of the photos in your hand, or a digital file, ready in a few minutes. No appointment required. Prices from 299 SEK.
If you want to submit your own image, you can do that at the bottom of this page.
We produce photos of the following types:
ID card
Visa
Drivers licence
Taxi licence
Färdtjänst
Foreign passports
CV-foto
Hunters licence
Parking permit
Bus travelling card
Train travel card
Linkedin
PHOTOGRAPHY & PAPER PHOTOS
299:-
PHOTOGRAPHY & DIGITAL FILE
299:-
The prices for sending in your own image is found at the bottom of this page.
SWEDISH ID CARD AND NATIONAL ID CARD
Photo to use for swedish passport and national id card, you have to take at the police when you file the application. Photo for the swedish id card, you get at Skatteverket. Follow the links below for more information about passport and id card.
DRIVERS LICENCE, FÄRDTJÄNST, TAXI LICENCE
We are happy to help you with photos for swedish driving licenses and taxi licenses. Welcome into our stores or send in your own picture. For photo for färdtjänst, the rules may differ slightly between different regions, but normally it is enough with a photo the right size, with good quality and where the face is well visible. If you want to know more about the rules for photos for swedish driving licenses, follow the link below.

PHOTO FOR VISA & FOREGIN PASSPORTS
We can take photos of you for valid photos for visas and foreign passports. As the rules are subject to change without notice, please feel free to check what applies to the visa or passport photos you need. We are of course happy to help you in store. If the images will not be granted, we will of course take new photos for free.
PHOTO FOR CV, LINKEDIN AND MISC.
Do you need a new photo for your CV, Linkedin, parking permit, hunting license, EU dog passport, bus card, train card or social media? We'll arrange it for you. Welcome in to our stores, or send in your own picture below.
You can take the picture yourself, and send it to us for size customization so that it meets the size requirements for the type of picture you need, as long as it follows the guide lines below. You can bring your own picture into one of our stores, or send in your own picture to us. In our stores, you can also let us photograph you for the best results. Should your photos not be validated even though they follow our guidelines below, you can of course send us new photos without any extra cost.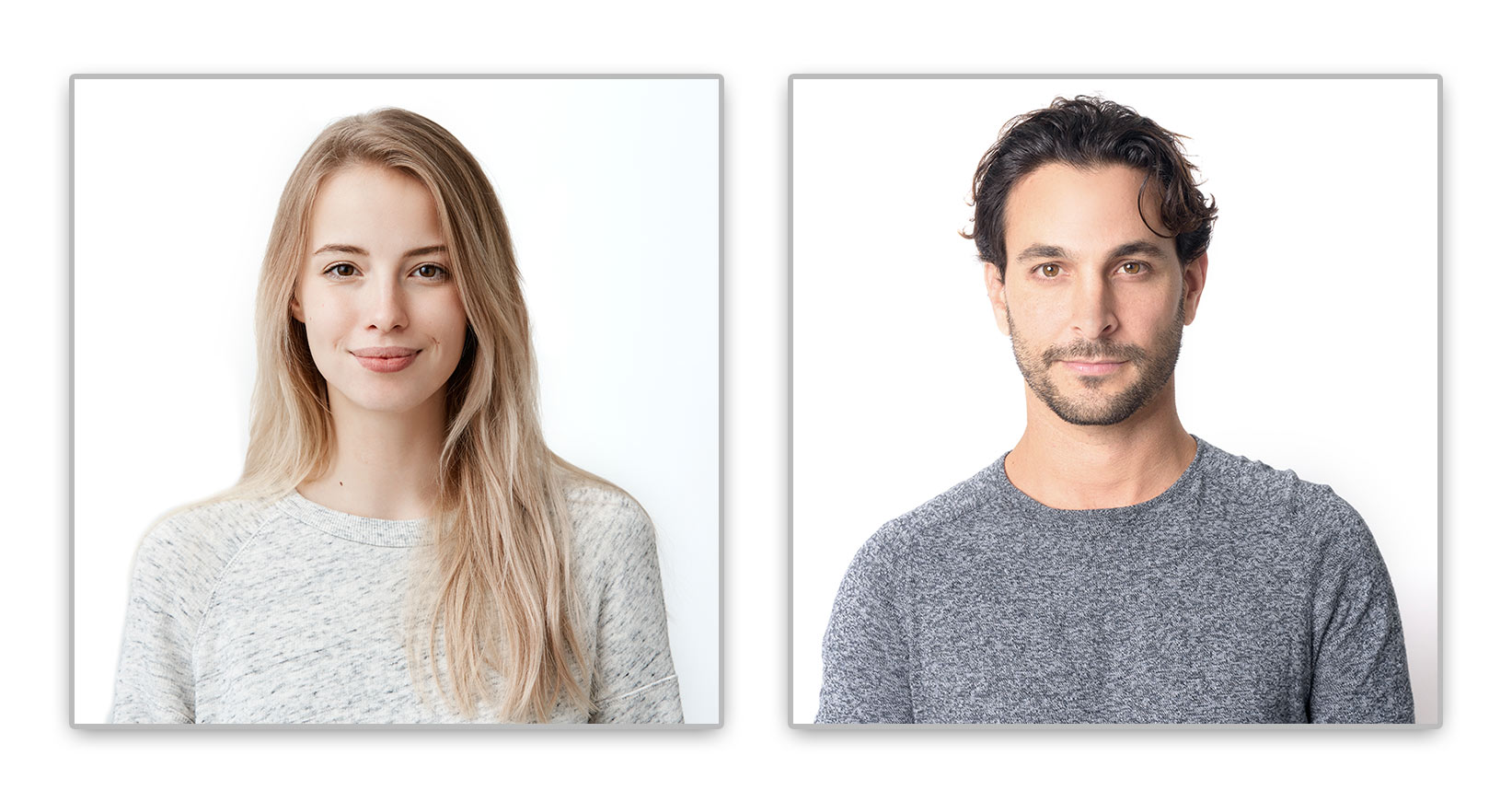 Light uniform background (or according to specs)
Even lighting without shadows
Look straight into the camera
Both shoulders completely included in the photo
Fully visible face & eyes
Neutral expression
Avoid dark glasses & headgear
Avoid reflections in glasses, rather take them off
PAPER IMAGES
99:-
– Size customization of image
– Production in 2 working days
DIGITAL FILE
50:-
– Size customization of image
– Production in 2 working days
PAPER IMAGES & DIGITAL FILE
149:-
– Size customization of image
– Photo sheet & digital file
– Digital file delivery via email
– Photo sheet delivery via post
– Production in 2 working days